Why choose us for your conference?
Gudbrandsgard Hotel has a newly refurbished conference area with a welcoming and modern expression. Here it is possible to book meeting rooms in different sizes and with recently upgraded technical equipment that meets current needs. Here you can safely arrange your next meeting, and the hotel's conference department will ensure personal follow-up and good service.
The hotel also has several bright and nice group rooms with standard technical equipment and projector. The whole conference area is located on the same floor, with a lift from the reception.
We can tailor a complete program of activities, food, and conferences for you and your company. Whether you want a day on the slopes, cycling in the mountains, going on mountain hikes or various events and team building in Kvitfjell. We can put together a complete package of accommodation and activities. For larger meetings / conferences, we also offer to rent the entire hotel for your event.
Gudbrandsgard Hotel is located in the center of Gudbrandsdalen, in Ringebu Municipality. Driving to Ringebu center, is approx. 20 minutes ride.
Book din neste konferanse hos oss!
Read more about our conference offer this autumn and winter: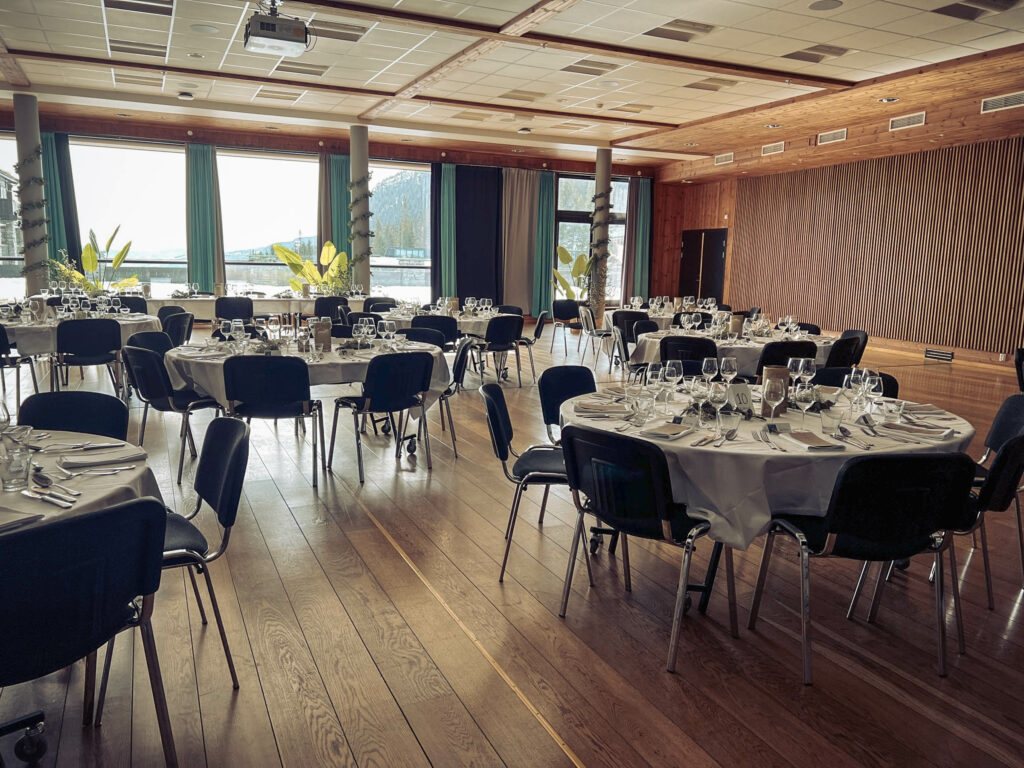 Kvitfjell Conference Hall
Our largest conference hall "Kvitfjell" is 300 square meters and has a capacity for up to 250 people. The hall has very high ceilings, acoustics and large windows with lots of natural light. "Kvitfjell" can also be used for parties and banquets. This room has a capacity for 170 people.
Bøygen & Russispranget
Bøygen & Russispranget are two meeting rooms that can be combined into one, which then holds 100 people theater-style. Both rooms have plenty of daylight and double doors out, which makes it suitable for both trade fairs and car presentations.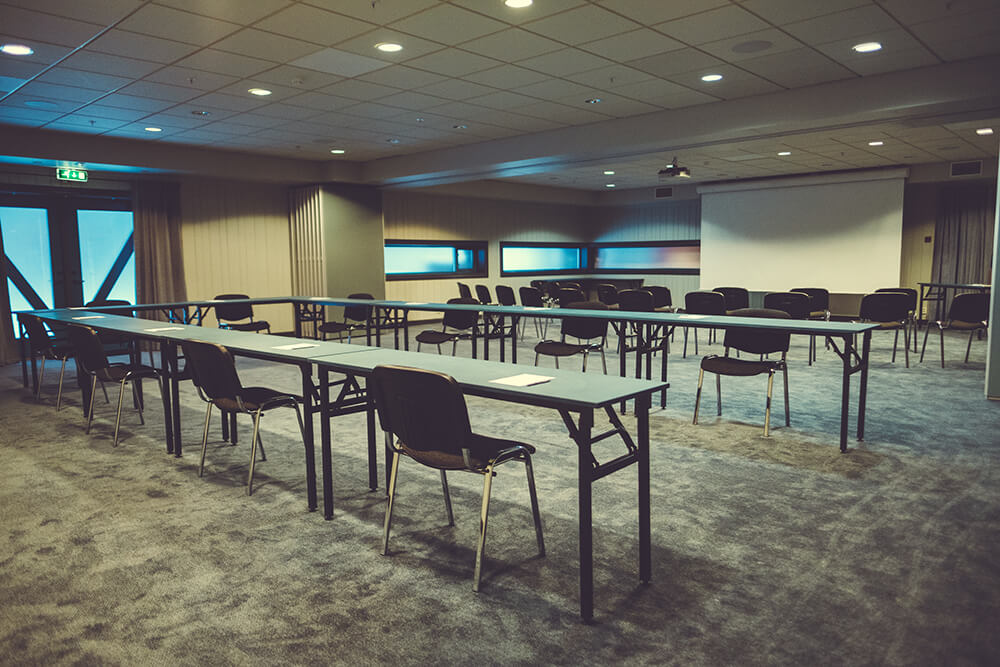 Meeting room size
| Meeting Room: | U-table | Class | Fiskeben | Cinema | Boardroom | Other | Size |
| --- | --- | --- | --- | --- | --- | --- | --- |
| Kvitfjellveggen | – | – | – | – | 10 | – | 20 kvm |
| Orresvingen | – | – | – | – | 10 | – | 20 kvm |
| Vinterhogget | 14 | 18 | 18 | 30 | 14 | 30 | 40 kvm |
| Russispranget | 22 | 30 | 30 | 75 | 22 | 75 | 75 kvm |
| Bøygen | 28 | 50 | 50 | 75 | 22 | 75 | 85 kvm |
| Bøygen + Russispranget | 42 | 110 | 110 | 150 | – | 150 | 160 kvm |
| Kvitfjellsalen | 50 | 180 | 180 | 220 | – | 220 | 300 kvm |